Prague Castle and Saint Vitus Cathedral

The Prague Castle, the white building with the red roof, is overwhelmed by the St. Vitus Cathedral. I found it impossible to get a photo of the palace without St. Vitus looming in the background.  The castle occupies almost 764,000 sq feet so it in not a small place.  Prague Castle  is the official residence and office of the President of the Czech Republic along with many state offices
We could tour the exterior of the castle, but as it contained active state offices entrance was forbidden.
The Castle had an Honor Guard posted at each entrance.  Every day at noon there is a Changing of the Guard Ceremony.
The sculptures surrounding the castle were bizarre to violent.
Note this dragon is spitting venom (water) from its fangs.
Part of the old castle wall.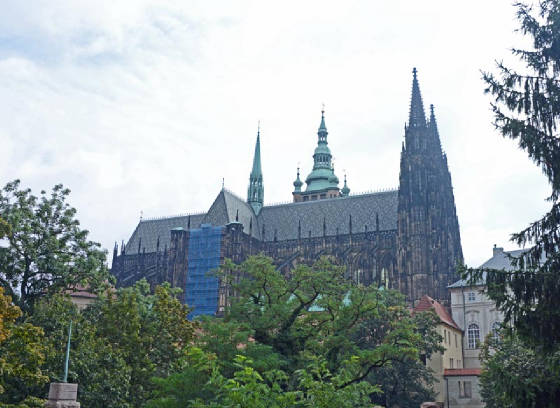 St. Vitus has an abundance of spires and spines.
pro6tected behind the mesh were remnants of the original foundation dating back hundreds of years.
Seems like everyone must have an obelisk.  We saw them all over Europe.  Carryovers from the Roman Empire I believe.  Remember the Romans occupied North Africa (Egypt) for years.  That is probably where all the lion statues came from as well.
Tours were available inside the Cathedral but the crowds were massive so the Skunk decided to stay outside. Had about all the cathedral interiors I could stand anyway.