More photos that are of specific interest to the tour group but may also be of interest to others viewing this site.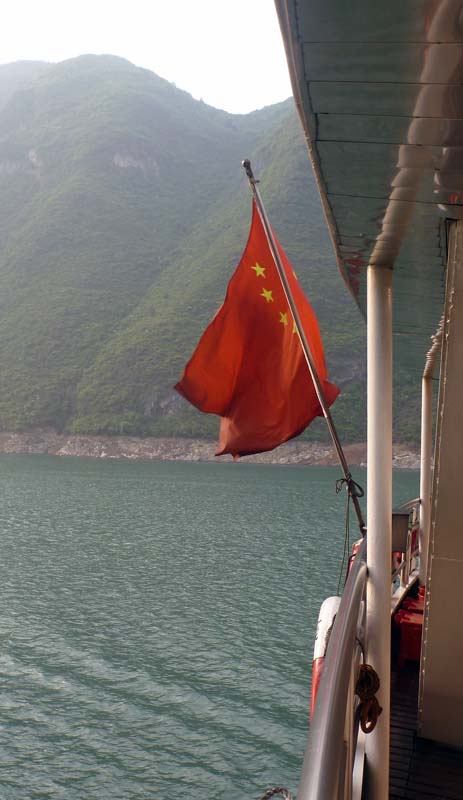 A quick check of the stern of our River Boat confirmed that it
really was flying the flag of the People's Republic of China (PRC).
Entering the locks on the first day of our river cruse.
When we disembarked the boat the first time we were greeted by this gauntlet of venders –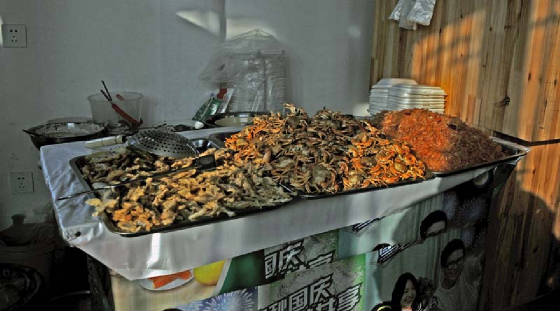 and given a choice of gastronomical delights.
and our first view of many of this smiling faced boat's photographer
Here we boarded smaller boats for a trip up Xiling Gorge and a visit to the Tribes of the Three Gorges. We were serenaded on the trip by the boatman. 
Click here for a video of our serenade.
The river is used for commerce and transportation by those living
along its shores.
When we arrived at the Tribes of the Three Gorges display area we first saw some period boats manned by actors.
Various photos of the boat vista presented.
Please don't rock the boat.  I really do not want to get wet!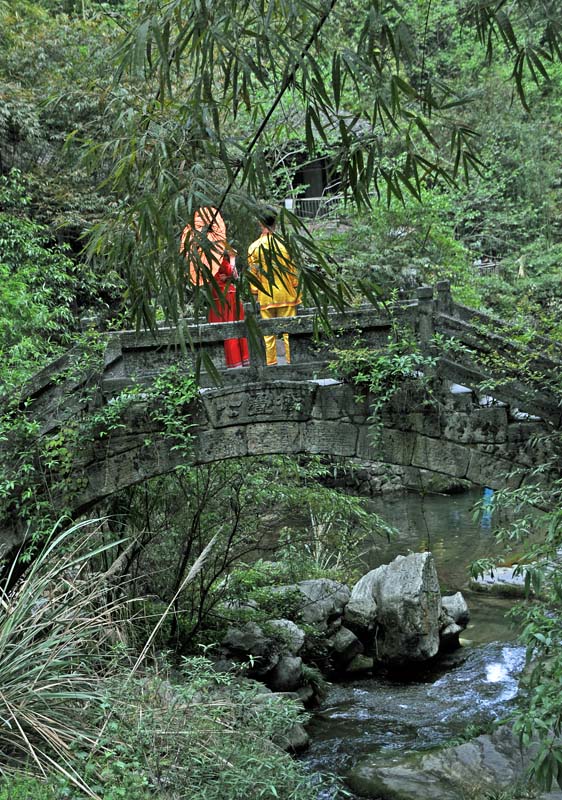 As we walked further up the valley we found
this boy and girl hanging out on a bridge.
There seemed to be a fascination among the local visitors to this
area to take off their shoes and wade in the water.  Maybe it was one of
the few places that was not so polluted that they could?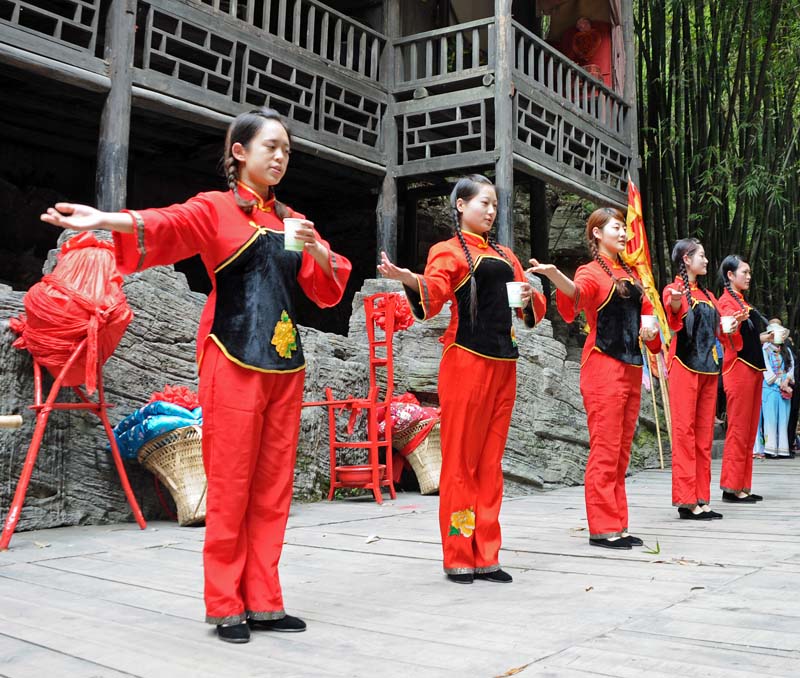 Next we were treated to a tea presentation by some lovely young ladies.
Okay, what is going on here?
Well, now we know.  This tour member was not bargaining for a computer in Shanghai, he was bargaining for a bride!
From the looks of the bride, he got a really good deal, or paid a premium price!
Well he certainly looks happy with the bargain but I am not
certain
how he will explain it to the bride he started the tour with.
Remember the old song about two silhouettes  on the shade?
 The zheng is an ancient Chinese instrument. It hasbeen developed from a small instrument made from bamboo,originally used by herdsman. It was very popular during ancienttimes, as early as the Warring States Period and the Qin Dynasty(225 to 206 BC and earlier). The Zheng has an arched surface andis elongated-trapezoidal with 13 to 21 strings stretched overindividual bridges. Although metal strings are common today, thestrings were of silk in ancient times. The zheng rests on twopedestals and is played using 3 to 4 imitation fingernails. Onthe right side of the bridges, both hands pluck the strings andon the left side, the left fingers bend the strings to changepitch or to provide embellishment. Its playing range spans threeto four octaves. We had this instrument made when we worked in Chengdu at themusic conservatory
For a video of this instrument being played. click here
This side trip really brought out the animal in some of us.