There are many different species of hoofed animals in South Africa.  While some are individual species that I will deal with separately, the larger category represented are the antelope.  When we think of antelope, we usually think of the Prong horns of the American West.  You will be surprised at the difference in the African ones.
The first subspecies of antelope that we will view are the Blue Wildebeest or Gnu.  Yes, they really are antelope!  The adult ones weigh from 265 lb to 600 lb.  These the critters you see on the NG Wildlife channel swimming across the river and bring decimated by the creatures seen on that last page.
Next lets move to the Impalas.  Yeah, 427 CID; 390 HP; 4 on the floor; twin exhausts; rapid acceleration and can turn on a dime.  Well at least the 4 on the floor, rapid acceleration and turning on a dime is correct is correct.  And they use them all as they are the primary food for lions, cheetahs, leopards; and the croc waiting at the water hole.
The male antelope's horns come in several shapes.  Here one has a gentle curve and the other has a kink.  Only thew males have horns.
Before and after shots for Avon Cosmetics?  One lady has the outdoor look while the other a cosmopolitan look.
Something has this herds' attention.  Probably a lion or leopard lurking over there.
I'm having my afternoon siesta, would you
mind going somewhere else with that safari van?
Alright, fine, I'll just go somewhere else
You obviously have no consideration
for the natives. We were here first,
you know!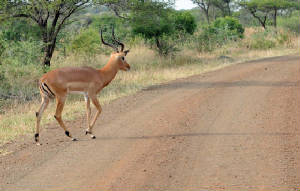 Alright, alright, I'm going, but this is my road and I will
cross it as fast or as slow as I want. 
You just sit and wait.
This is my Savannah and I am king of it!
Next up are the Klipspringer. The name Klipspringer is the Afrikaans name for 'rock jumper' and alludes to the animal's ability in rocky territory where it can be seen moving freely, seemingly on tiptoe. Weighing 24-28 lbs and only standing 20-24 inches high at the shoulders, this is a small and stocky antelope. Ewes are slightly larger than the rams. Only rams have short horns.  These little guys were a good 4-500 yards away so it took a steady hand and the zoom lens to capture them.
Greater kudus have a narrow body with long legs They possess between 4–12 vertical white stripes along their torso. Male greater kudus tend to be much larger than the females and have large horns with two and a half twists, which, were they to be straightened, would reach an average length of 47 in. The horns do not begin to grow until the male is between the ages of 6–12 months, twisting once at around 2 years of age, and not reaching the full two and a half twists until they are 6 years old; occasionally they may even have 3 full turns.
This is one of the largest species of antelope. Males weigh 420–600 lb, and stand up to 63 in tall at the shoulder. The ears of the greater kudu are large and round. Females weigh 260–460 lb and stand as little as 39 in tall at the shoulder; they are hornless, without a beard or nose markings.
Kudus are plentiful in the Kruger and are hunted for their meat.Kudu stew was a regular menu item at the restaurants there.  Yes, I did try it.  Tasted similar to grass fed beef.
This is obviously a female
with no horns
Note how well this male
blends into the background.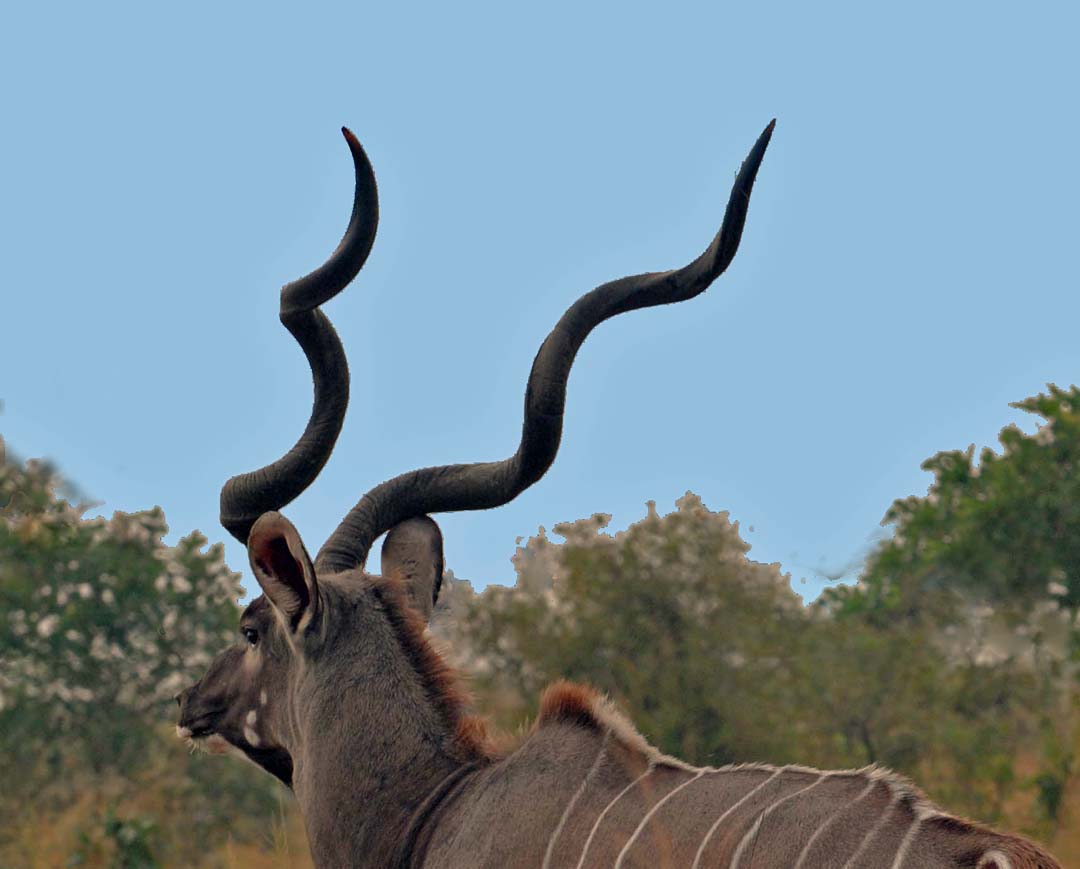 Some nice horns on these male Kudu.