More Hill Country Links at the bottom of this Page.  Scroll down
We occasionally have some backyard visitors.
Click below for some film clips of them.
Give them time to load.  Time will depend
on your download speed capability.  
The B&W ones were shot with a game camera using IR illumination
These videos were all shot in my back yard.  Just click to watch.  Please let me know if you have any problems opening them.
It is Difficult to fly with Eagles When You Are Surrounded By Turkeys
Yeah, they really are wild Rio Grande ones! 
Thanksgiving Dinner on the hoof!
Notice in the video that one turkey
seems to be standing still and not feeding.
He is the "Guard Turkey"  One bird will
watch for predators while the others feed. 
This group of Toms is feeding on acorns
from my Red Oak Tree
I guess this guy thinks he is a bird .
At least he is out of my bird feeder.
 I found the Texas Rat Snake hanging from my RV door one morning.  Needless to say he gave me a start!  The grab bar is 24″ high to give a size comparison.  These guys can get to 6 feet long but are non-poisonous.  They constrict!  This snake is often incorrectly called a 'chicken snake', probably because of it's fondness for hen's eggs.  These snakes will eat any kind of rodent, birds, or bird eggs. They are obviously  excellent climbers, and will go into attics and under homes in search of prey. These snakes are very aggressive when cornered or captured. But hey, if your main diet consisted of rats, you'd probably have an attitude problem, too.
This Golden Globe garden spider
was busily spinning a wed
across my side door.
These Black Vultures should be the Texas
State Bird. There are so many of them around
one would think they are protected.
Yes, this is the original Texas Skunk.  He showed up in the back yard shortly after we moved here.
Obviously the photo was taken from a respectful distance.
This Green Anole lizard is one of the more frequently seen ones. 
This Northern Flicker is a colorful bird but also an extremely
 noisy one when he decided to send out a message on my metal fireplace spark arrestor.
He also likes to hang on the window of the RV a fight with himself
in the mirrored glass surface.
A beautiful Gray Fox decided to pay a daylight visit one summer afternoon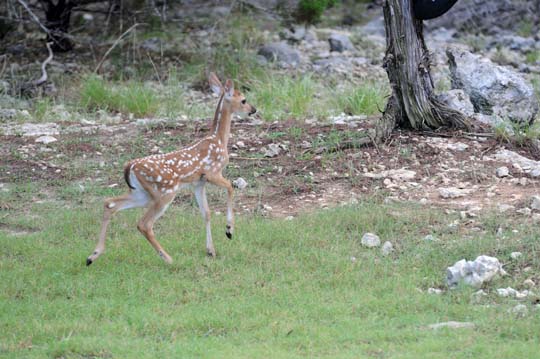 This guy is not more than a couple of days old but he's got the "moves" down.  He was gamboling all over the yard.
This two family portrait is cute.  Twins are fairly common but it is unusual to see two single  families together like this,
I caught this guy peeking from behind a pile of cedar limbs that I had cut one Fall afternoon.
Black Chinned Hummingbirds are the most
common in the Hill Country. 
Some ever winter-over here.
The Northern Cardinal is the most colorful bird around and is a year-around resident.
These are just a few of the hundreds of birds around.  I will be adding more as I capture them on camera.