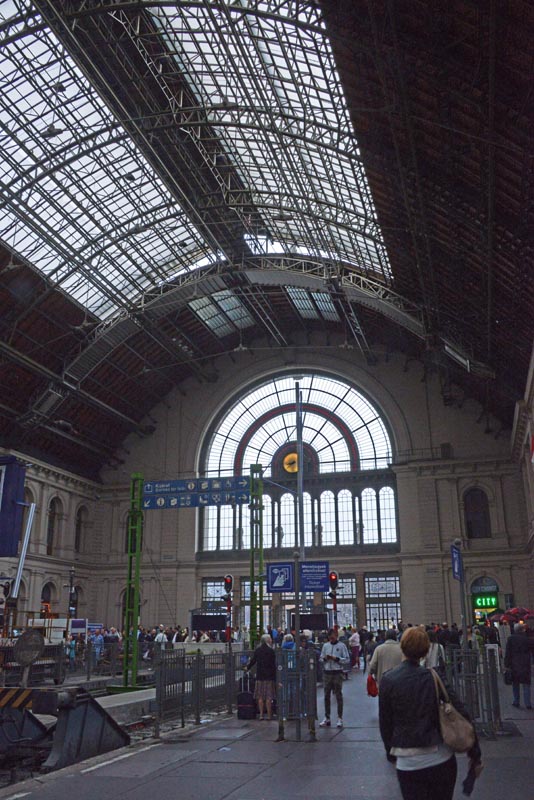 At 10:00 AM on Sept 11th we boarded a train for a 7 hour trip to Prague. We could have flown but by the time we got to the airport, flew and then into Prague it would have taken us about the same time.  We hoped to be able to see some of the countryside on out trip.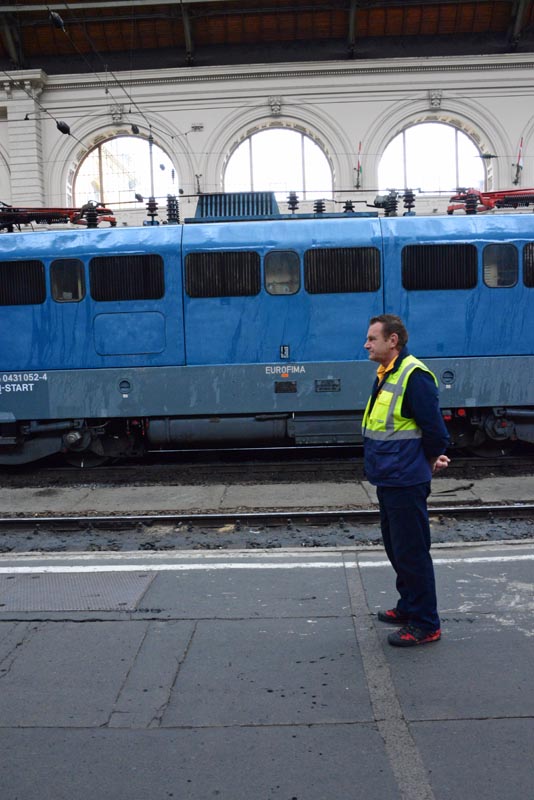 Railroad ties are concrete vs wood in the US.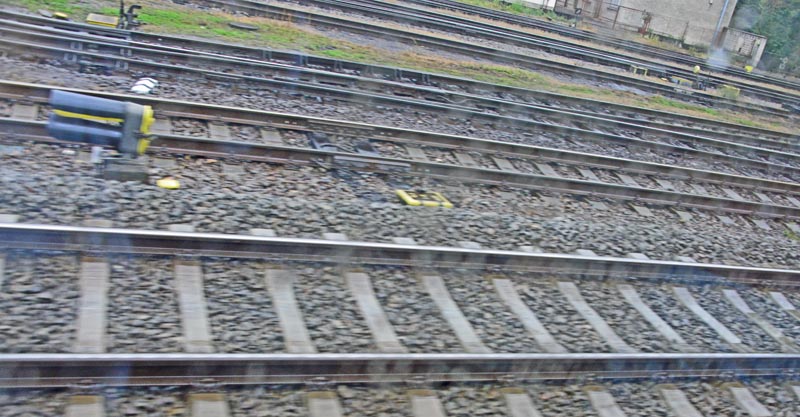 The engines are all electric so the tracks were covered by a spider web of live electrical wires.
We traveled First Class. The accommodations consisted of 6 person compartments and an isle ruining down the right side of the car.
There were four of us so we ended up sharing the compartment with two strangers.  They were nice enough and we had an interesting conversation in spite of the language difficulties.
The train compartments were set up to accommodate one small bag per person in the overhead. Of course we had one small bag and a Pullman size bag per person.  They ended up sitting in front of us with our legs wrapped around them.  Nope, no baggage checking.
We paralleled the Danube for part of trip and saw on of the Viking River Boats as we passed by.  These photos were taken out of the train window along the route. They are in no particular order.  Unfortunately it rained most of the way so there are some water spots on the window.

When we bought our tickets we had a choice of two stations in Prague. And did the Skunk screw up? Royally!  Made the assumption the  first would be a suburb station and the second the main station.  WRONG!  The first was the main station where our ride was, even though we had specified the name of the station we were getting of at.  They assumed we would be at the main station and did not look at the name I provided.  The section we got off at was in the middle of the slums and drug trade.  Youzia! Don't know if that is a word, but it is better that what we actually felt!  No ride, no phone and the four of us Americans looking as out of place as four penguins  at a chicken party..  I finally spotted a police sub-station and went in, explained the situation and a very nice lady cop, from her rank I will assume a supervisor, called  our housing and got our transportation to the right place.  No one bothered us as we kept a look of confidence but it was a hectic hour until our transportation showed up.  And of course, pouring rain!  Yuck!  What a way to start our time in Prague.