Prague Old Town Square

If you were standing at the left side of the map shown below  and looking toward your right front, this is what you would see. Our apartment was just down that little street and to the right.  We were literally steps from the square.  The restaurant we went to  is on the same corner in front of the church. The one with the white awnings with red writing.
This is the "Bily Konicek"  (White Horse) Restaurant in Prague. It is located in the stunning 12th century medieval cellars of one of the oldest houses on the Old Town Square. It must have been 9-10PM our first night when we finally got settled and were HUNGRY! We saw this restaurant as we were going to our apartment so we went back out and ate there.  Went in the front door and down several flights of stairs, ending up in what probably was an old wine cellar.  Beautifully furnished and with live music. I had sauerkraut & sausage soup.  Sounds strange but was delicious (or I was really hungry)  More info about tis restaurant is at:
http://www.pragueexperience.com/places.asp?PlaceID=1213
Saint Mary's of Tyn Church
 Old Town Hall Tower with its' famous astrological clock. 
Be sure and watch the video of this clock chiming.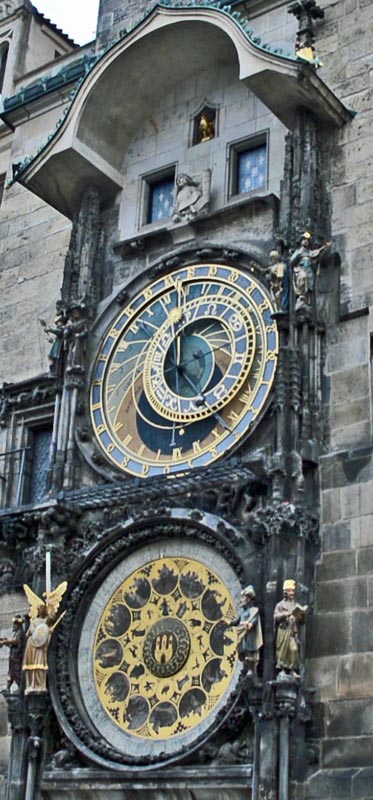 Click here for a short video of this clock. Watch the saints rotate in the windows followed by the rooster crowing at 12 noon.
click here for a far more professional presentation of this clock.
mid-morning to late at night, 7 days a week, there was always something going on in the Square.
These Segway scooters were everywhere.  They even were giving tours of Prague on them
One of
many interesting
streets off the Square

Next stop; Prague Castle and St. Vitus Cathedral. Just Click here