New Town Water Tower
The Great Strahov Stadium  is  in the Strahov district of Prague. When it was an active sports venue, it had a capacity of around 250,000, making it the largest stadium in the world.
Today, it is no longer in use for competitive sports events; it is a training centre for Sparta Prague, and is used to host pop concerts.
Construction began based on plans by the architect Alois Dryák, on a wooden stadium in 1926, which was replaced by concrete grandstands in 1932. Further construction occurred in 1948 and 1975. The playing field, surrounded by seating on all sides, is 63,500 square meters. The stadium currently serves Sparta Prague as a training center with 8 football pitches.  Remember football is soccer in the US.
The original stadium dates from the First Republic between the World Wars and served as a venue for Sokol displays of synchronized gymnastics on a massive scale. It was later used for large displays during the communist era.  Performances with several hundred gymnasts making various complex formations and exercising identically while accompanied by tunes from traditional folk music attracted the attention of many visitors. Each time, among the widely popular shows were those of young well-trained recruits who wore only boxer shorts while on the display or women dancing in miniskirts. The groups of gymnasts (unlike the soldiers, who were ordered to practise and participate) were put together from keen local athletic association members who regularly trained for the show throughout the year prior to the event, which repeated every five years. The name of the performance, Spartakiáda, referred to the power and strength of the slave uprising led by Spartacus
The stadium is in serious disrepair and unavailable to tour.  These photos were taken from the bus.

National Theater
A creation by David Cerny, you will find giant babies crawling up the Zizkov Television Tower. Each sculpture weighs about 800kg and they were so popular with Prague residents that David Cerny had to make them a permanent installation. Due to their popularity, three more giant infants were installed at ground level in Kampa Park. The sculptures are the size of cars and have air-vents for faces, more creepy than cute.  Did not make it to the TV tower.
 Sculpture of 34 yellow luminous penguins by the Italian "Cracking Art Group" as part of "Re-Evolution" exhibition in Prague, Malá Strana near the Kampa Museum. Why?  I guess "Because!"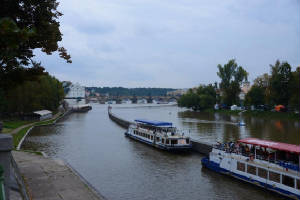 As I was walking toward Charles Bridge I passed this party boat, and yes there was a party going on.  See Video
Click here for the party that was going on!
 Perched atop the city part of the Strahov Monastery compound and the lush surrounding Petrin Hill, the Strahov Brewery is a delightful find in the bustling city of Prague.
The walls of this monastery seemed to be made of several layers of red brick.  Some of which have pealed away, leaving an interesting pattern. 
This fallen leaf caught my eye as I was walking down a paved walkway.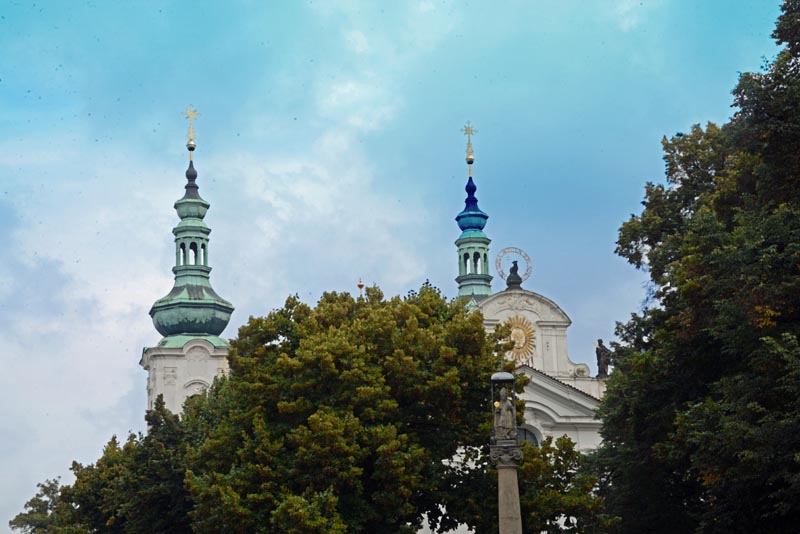 Concrete block streets (cobblestones) make for a rough and noisy ride. Click here for a sample.
These red touring cars are actually custom bodies on old Russian Lada frames.
 The Svatopluk Čech Bridge or Čech Bridge  is an arch bridge adorned with angles on pedestals  over river Vltava in Prague.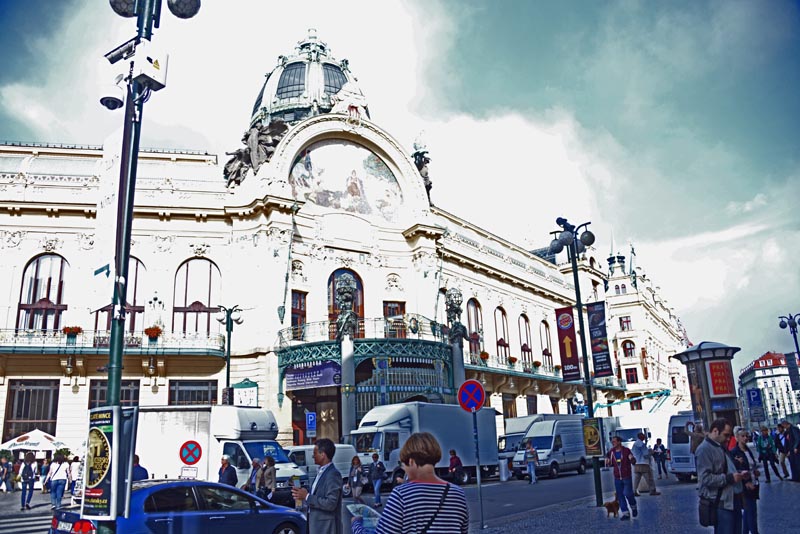 Peruvians, dressed as American Indians performing music in Prague. How international can you get? Click Here to see.
I hope Ms Skunk did not find this store!
So after we finish our fish (fishicure?) pedicure we move on to the Jewish Cemetary